SafeZone Token Price (SAFU2))
$0
-2.08%
Fully Diluted Market Cap
$21291
Circulating Supply
Max Supply
$10000000000
Total Supply
$9400000000
Contract source code verified
This token contract is open source. You can check the contract code for details. Unsourced token contracts are likely to have malicious functions to defraud their users of their assets.
There is no proxy in the contract. The proxy contract means contract owner can modify the function of the token and possibly effect the price.
Mint function is transparent or non-existent. Hidden mint functions may increase the amount of tokens in circulation and effect the price of the token.
No function found that retrieves ownership
If this function exists, it is possible for the project owner to regain ownership even after relinquishing it.
Owner can't change balance
The contract owner has the authority to modify the balance of tokens at other addresses, which may result in a loss of assets.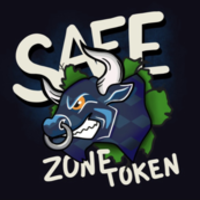 Popularity:
on
2504
watchlists
Add to watchlist
Safe zone V2
$SAFU
BSC
BSCContract Address:
copied!
0xa701EC6B9C1883fcF727FED7e41FE925A1b1E91C
copied!























SafeZone V2 $SAFU



SafeZone.net founded by Brian Nichols, an established and well-known developer in the crypto space, is aiming to set a new standard to changing the crypto space into a safe zone.

Vision & Founder

Dedicated and hard working, Brian will stop at nothing to help people find existing or new safe gems for all investors. Brian has been fully KYC'd, the contract audited, and officially registered as an LLC company in USA. To date, no funds have been used from Developer or Marketing wallets and has been fully funded by the founder, so we can see Brian is fully invested to take this to success. While still at its early stages, much has already been accomplished but there's so much more planned ahead.

P2E Game

A Play 2 Earn game called SAFU Token Crusher is already available to download from Google Play but currently in Demo mode.This fun and addictive game like Candy Crush, will be migrated onto the blockchain and will allow players to earn token rewards.

Web Application

Currently being developed and almost complete is the web application SafeTools which will list Safe Tokens for investors to explore or research. The projects will require founder(s) to be KYC'd and therefore accountable. There will be a performance and safety rating as well as additional info such as contract audits or previous projects stats when applicable.

Community and Marketing

Shortly after $SAFU token launch and while market cap was sitting at just $10,000, SafeToken was promoted on Billboards in 9 cities across the USA. More cities across Europe and Asia are planned.
A vibrant Telegram community has already attracted over 1000 members organically and continues to grow steadily. Come see for yourself and join the SAFU Family at https://t.me/safezonev2

Investor Benefits

Current holders of $SAFU are already enjoying generous BUSD rewards of 3% on each buy or sell transaction. There has been regular competitions or giveaways to all for extra benefits.
Additional benefits planned on the roadmap will be staking and limited NFT's with utility yet to be announced.

Performance & Status

The chart has grown nicely since the stealth launch and is holding up extremely well even during the current market turmoil. Listing on CoinMarketCap and CoinGecko is not too far away and will bring awareness to the masses.

Conclusion

To learn more, visit the website at https://www.safetokens.net. A new website with more details is also in the works as well as a whitepaper.
While not financial advice, many ingredients are being prepared and baked, setting $SAFU up for success as the founder and the community keep furiously pushing forward to provide a safe zone for all. Or as they say…Safe & Furious!

Buy now on PancakeSwap, PooCoin, DexTools, or DexScreener
SAFU2 Price Statistics
SafeZone Token Price Today
Price

$0

Price Change/24h

$0

%0

Trading Volumen/24h

$2520

Market Cap

$21291

Market Dominance

$1

Market Rank

#2